The demand for fresh produce has vastly increased these past few years. Consumers are putting their health front and center, and fresh produce is at the top of their grocery lists. However, produce has one of the briefest product life cycles. Once picked from the field, fruits and vegetables have varying shelf lives after harvest. With some only having a retail window of a few days, the produce supply chain needs to be precise to minimize delays and maximize shelf life.
The farmers that supply fresh produce will not only have to increase production but also partner with a service provider that can deliver according to their needs. But, what does the right provider need to safely and efficiently ship fresh goods?
Transporting Produce
Transporting produce in North America means that goods need to cross borders. This requires each country to set their own standards in place to regulate everything from growing to selling produce. For the US, it's the FSMA (Food Safety Modernization Act) which went into effect Jan 26, 2016. This put in place clear scientific guidelines based on the Food and Drug Administration that set standards for the growing, harvesting, packaging, and storage of produce for human consumption. Some of these requirements include:
 Produce needs to be kept at safe temperatures during transport
 Proper training is required by carriers
 Documentation of compliance needs to be kept
Shippers need to ensure that the trucking company they work with is compliant with these aspects, before securing loads for shipment. Making these decisions before accepting the job can save you time, money and lead to successful partnerships that reduce wastage and losses.
Shippers want their goods delivered in the best condition and ready for consumption, while trucking companies want to provide the best service. Delivering a bad load of fresh produce to market doesn't bode well for either party. Both can work together by communicating regularly in these situations to ensure all needs are met.
Cold chain Logistics (temperature matters)
To ensure that fresh produce gets to where it needs to go means a consistent temperature from the first refrigeration, during transit, all the way to the market. From refrigerated warehouses in production areas, goods need to be transported at stable temperatures on refrigerated trucks (reefers), to commercial or centralized warehouses, which also needs to be temperature-controlled.
The produce supply chain is riddled with complexities but one way to simplify the process and deliver temperature-sensitive products with ease is to use technology. Carriers should empower suppliers and offer visibility into their shipment. Finding a partner with the right technology in place means instant delivery notifications, real-time temperature updates and temperature reports.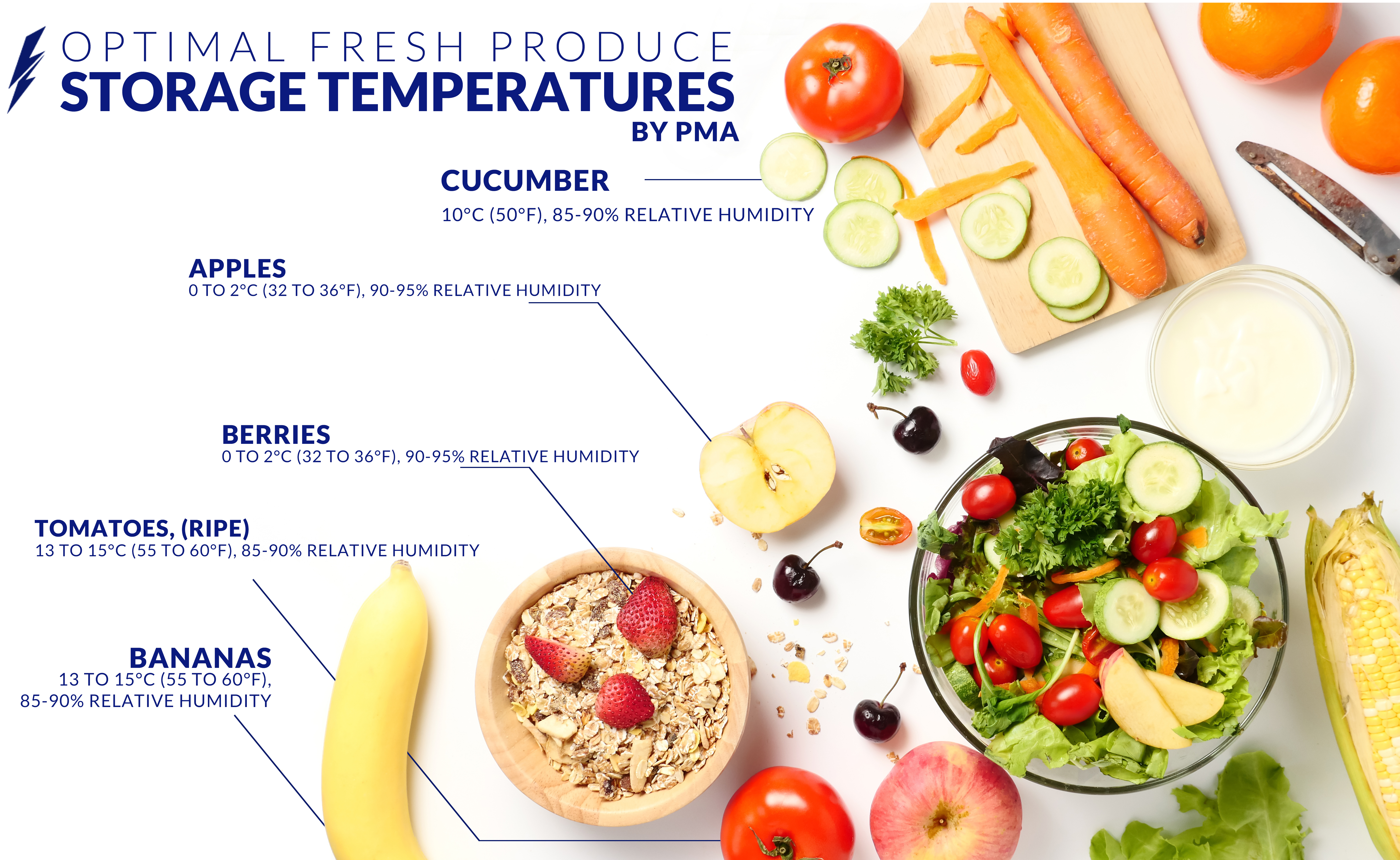 Shelf-life and Seasonality
When it comes to different produce, certain fruits and vegetables need more handling, and some need to be shipped faster than others. Since shelf life is important, finding a carrier that can deliver produce in 24 hours or has driver teams is the best way to go.
Some examples of different needs include light density produce, which can be kept on the shelf for about a day or two once delivered. Medium-density products can be on the shelf for 2 to 4 days before risking freshness leading to spoilage. When it comes to high-density produce with a shelf life of 7 days or more, specific needs can be reduced as well as different packaging and handling requirements.
Capacity Crunch
It's good to bear in mind capacity crunch especially during the major growing season which begins with spring and hits its peak come July. This is the period where farms grow and harvest their produce, to send across the country and beyond, and this means the farmers need transportation carriers, and more specifically, temperature-controlled trucks that they can secure for long hauls. The seasonality of all these fresh fruits and vegetables comes at the same time, so it is imperative to stay ahead of the competition by making sure your goods are on trucks and on their way to the grocery store.
When you ship produce with ENERGY, you are shipping with ELD compliant team drivers with GPS tracked reefer units, no older than 4 years old. This ensures that we meet the latest technology and safety standards present in the industry. As the call for healthier options become more prominent, shippers need to find carriers that can move their produce reliably and safely, while remaining compliant.
Whether we are hauling berries, cherries, melons, asparagus, tropical or standard North American fruit and vegetables, our meticulous compliance protocols dictate that at pick up and delivery, we check product temperature, provide photo evidence and if the temperature is off by a degree, we advise our customers immediately. While in transit, our drivers are instructed to check the reefer temperatures throughout their entire shift. In addition, our offices and 24 hour operations team receive immediate notification should there be any temperature variation during transit. This allows us to react quickly in the event of any mechanical failures and mitigate any risk to ensure that the product always remains fresh.
At ENERGY, we understand the short shelf-life pressures that arise from inaccurate delivery times. We track all our fresh produce loads and communicate these updates with our customers twice a day with the help of the latest GPS software on the market. We know that most produce is sold before it even touches the dock because of its perishable nature, and we understand that our customers need consistent daily tracking. We will never over-promise and under-deliver. With a team lead time of 3 days from California, we can beat your seasonality and capacity crunch times with our dedicated fleet.
As a leader in logistics and trucking, ENERGY TRANSPORTATION GROUP has the capacity to deliver fresh produce reliably and safely. Interested in learning more about our services?
Check out our Fresh Express service.