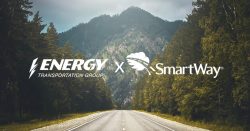 Based on the performance of ENERGY's freight transportation operations, the EPA — through their SmartWay program — has named us a 2021 SmartWay High Performer!
We are happy to announce that SmartWay recognizes ENERGY Transportation Group's dedication to sustainability in transport and has chosen to include us in not one, but two of their High Performer lists.
SmartWay High Performers: All Metrics Category
Only two percent of all SmartWay truck carriers operate fleets so efficiently that they make the SmartWay High Performer list for all metrics. This category evaluates candidates across several metrics, including fuel consumption, particulate matter, and nitrogen oxide emissions.
To receive this distinction means that when we compare ourselves to 98% of our peers in the industry, ENERGY burns less fuel and emits fewer pollutants for every mile we travel, and for every ton of freight we move.
SmartWay High Performers: Carbon Metrics Category
Carbon is the leading indicator of fuel use. ENERGY's placement in the Carbon Metrics category means we are in the top 10% of carriers operating efficiently in North America.
ENERGY's commitment to lowering emissions
While many companies would be satisfied to rest on their laurels, at ENERGY we know our work is just beginning. We must continuously seek out innovative solutions to address the environmental footprint of our industry, whether through technological changes or through changes to our corporate culture.
Driven to be different might be our slogan, but it's also words we live by. We train our dispatchers to avoid pressuring drivers to move faster. We train our drivers to operate their trucks more efficiently. By following best practices, we improve our fuel economy and our bottom line.
ENERGY is committed to making our roads and highways a safer, more environmentally friendly place for today, tomorrow, and the many years to come.
If you're looking to add more sustainability to your supply chain or have freight to move, get in touch with us today for a free quote!
About SmartWay
SmartWay was developed by the US Environmental Protection Agency (EPA). The SmartWay program provides a comprehensive and well-recognized system for tracking, documenting, and sharing information about fuel use and freight emissions across supply chains.