Toronto, ON — May 9th, 2023 — ENERGY Transportation Group has been awarded the prestigious 2023 Canada's Best Managed Companies award in recognition of its industry-leading performance, global business practices, and sustained growth.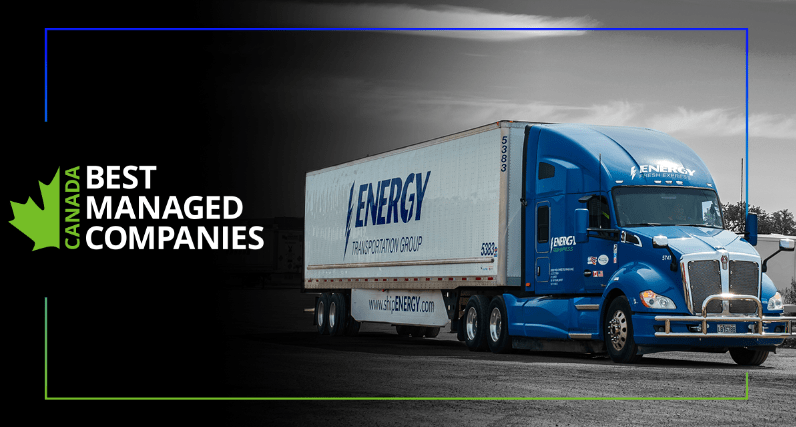 Celebrating its 30th anniversary, Canada's Best Managed Companies program awards excellence in private Canadian-owned companies with revenues of $50 million or greater. To attain the designation, companies are evaluated on their leadership in the areas of strategy, culture and commitment, capabilities, innovation, governance, and financial performance.
"ENERGY being named one of the 2023 Canada's Best Managed Companies is truly an honor," said Michael Cinquino, Co-CEO and President of ENERGY Transportation Group. "It's a testament to the hard work and dedication of everyone at ENERGY who helped us transform our vision into reality."
"This recognition serves as a reminder that doing business the right way, with integrity and treating people with respect pays off in the long run," said Shawn Girard, Co-CEO and CCO of ENERGY Transportation Group. "We're thrilled to have ENERGY included alongside these amazing companies that are committed to excellence and innovating their industries."
Canada's Best Managed Companies is one of the country's leading business awards programs recognizing innovative and world‑class businesses.
Hundreds of entrepreneurial companies compete for this designation yearly in a rigorous and independent evaluation process. Applicants are evaluated by an independent panel of judges with representation from program sponsors and special guests.
ENERGY Transportation Group's 32% average annual revenue growth in the last three years, and its 66% average revenue growth rate in the previous five years, speak to the success of its client-centric service model in the logistics industry.
The 2023 cohort of Best Managed companies share common themes such as having a people-centric culture, targeting effective ESG strategies, and accelerating operational digitization.
"The 2023 Best Managed winners exemplify the highest Canadian business standards of innovation, adaptability, and resilience," said Lorrie King, Partner, Deloitte Private and Co-Leader, Canada's Best Managed Companies program. "Over the past year, companies such as ENERGY Transportation Group have accelerated by continuously adapting and successfully responding to challenges, seizing new opportunities, leveraging industry-leading competencies to maximize their investments, and driving sustainable growth."
About Canada's Best Managed Companies Program
Canada's Best Managed Companies program continues to be the mark of excellence for privately-owned Canadian companies. Every year since the program's launch in 1993, hundreds of entrepreneurial companies have competed for this designation in a rigorous and independent process that evaluates their management skills and practices. Program sponsors are Deloitte Private, CIBC, The Globe and Mail, Salesforce, and TMX Group. For more information, visit www.bestmanagedcompanies.ca.
About ENERGY Transportation Group
Founded in 2007, ENERGY Transportation Group is an asset-based 3PL offering logistics and warehousing services across the North American market. Headquartered in Montreal, ENERGY has offices in Toronto, Chicago, and Chattanooga. ENERGY prides itself on providing personalized, innovative, and win-win solutions to meet even the most complex shipping and logistics challenges.
Learn more about ENERGY by visiting our website at www.shipENERGY.com or connecting with us on LinkedIn.
For more information, please contact:
Adam Pinsky
Marketing Director
ENERGY Transportation Group
+1 (438) 835-6033
[email protected]