To ensure we maintain a competitive advantage in the market and honestly speak to who we are as a company, we are revamping our corporate statements and values.
ENERGY was founded on the simple premise of doing business the right way — with human values, safety, ​​and customer service at the core. These attributes have been a thread line through the company's 15-year tenure and continue to this day.
That said, we've grown so rapidly and worked so diligently over the years that we knew we had to pause and reconnect to who we are now as a company.
"As the company grows, we want to ensure our corporate culture stays true to our founding principles of service, safety, and integrity but also speaks to the diverse and unique perspectives that make us who we are today." — Michael Cinquino, President.
Why we are changing our corporate statements
We dream big, and the future is bright. We realized our corporate statements and values need to better reflect our goals as an established company in the industry. So, we embarked on a journey to redefine what the future looks like for ENERGY and what our customers, employees, and partners can expect.
A part of this journey is our revamped corporate statements and company values, which we are happy to share with you below.
Our vision
Our vision, which expresses our primary goal for the future, is to be the Employer of Choice as Canada's #1 logistics provider with coverage in Canada, the US, and Mexico.
Our mission
Our mission, which describes how we will achieve our vision, is to provide a great environment for our people to thrive and create the best client and partner experiences in our industry.
That means we will continue and expand on our commitment to the professional development of our employees so that they, in turn, can further elevate the customer and partner experience at ENERGY.
Culture at ENERGY
We are hyper-focused on building a client-centric culture, constantly innovating to provide added value and make doing business with us easy. 
We are doubling down on our mindset that puts the customer first. And to do that, we will continuously seek win/win solutions, and we will always prioritize safety over short-term profits. We also embrace technology and the power of digital transformation. Innovation will make ENERGY a better place to work and provide added value for our customers and partners.
Values
We are a dynamic and enthusiastic company. Our passion for our colleagues, partners, and the work we do makes life at ENERGY vibrant and colorful. Coupled with our passion is our unwavering commitment to achieving our goals by staying true to the values that made ENERGY what it is today.
"We may drive goods across North America, but what drives ENERGY is our passion and commitment to our core values." — Shawn Girard, CEO
ENERGY's four core values are:
Diversity, equity, and inclusion: Everyone deserves an opportunity for success. We are committed to developing an environment where all can thrive.
Safety: We are a responsible organization on and off the road, and safety comes before profits.
Integrity: Our guidelines are simple — be respectful. Be the type of person you'd love to work with if you were an ENERGY partner.
Innovation: Our people challenge the status quo, embrace creative solutions, and make doing business with us easier.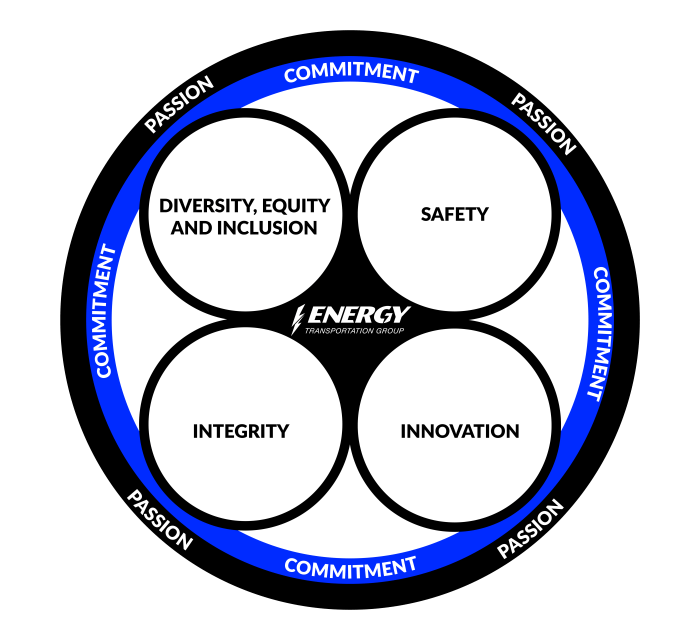 If you are interested in a career at ENERGY, visit our careers page to see our available positions.