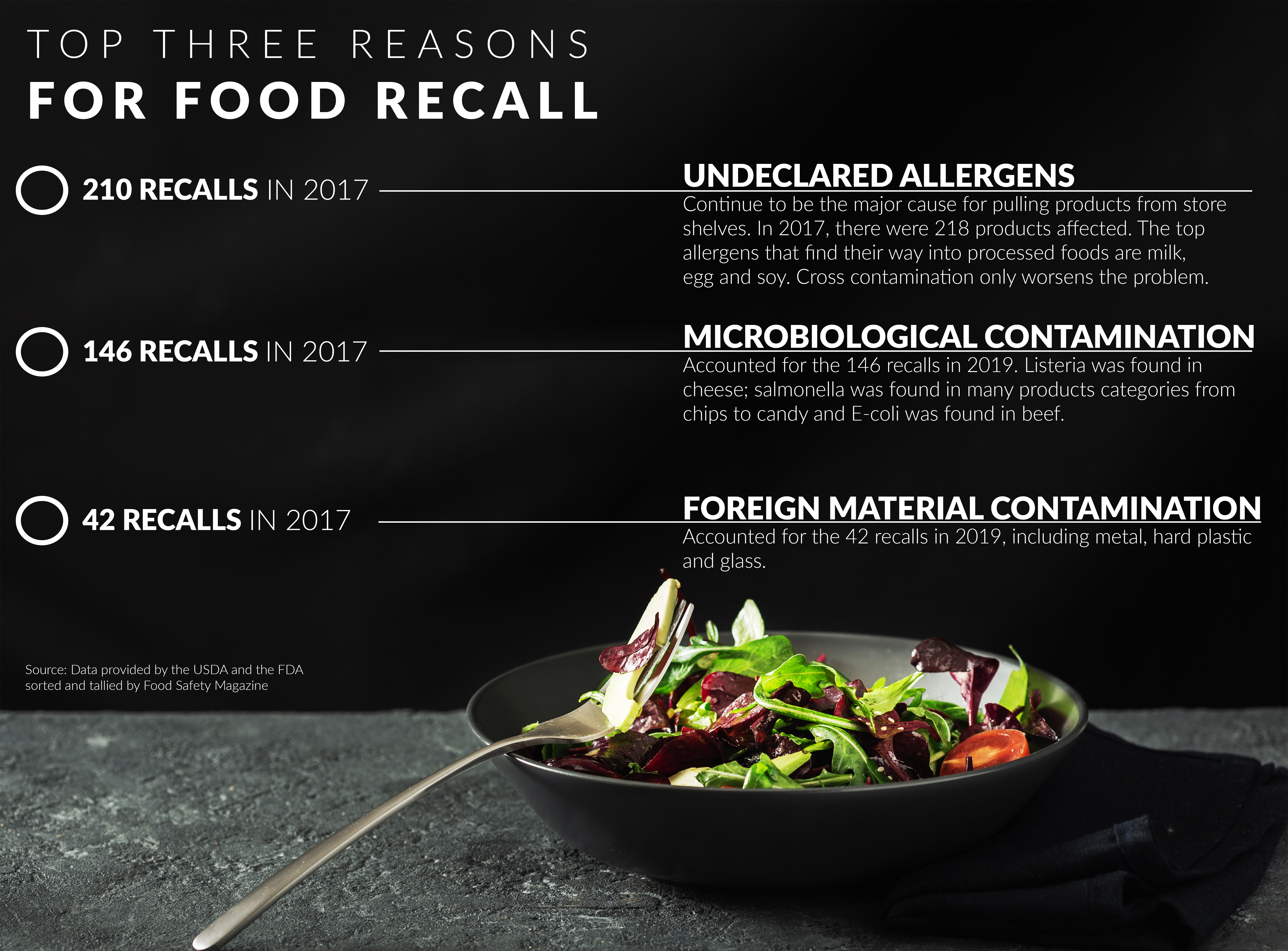 In 2019 alone, well known brands were implicated in food recalls including:
WHOLE FOODS/SATUR FARMS – baby spinach and mesclun products for salmonella contamination
TACO BELL – metal shavings found meal traced back to their ground beef
PERDUE FOODS – bone material found in their chicken products
TIP TOP POULTRY – chicken products for listeria monocytogenes findings
PITA PAL – hummus for listeria concerns
NESTLE – rubber found in some ready-to-bake cookie dough products
HENRY AVOCADO COMPANY – listeria contaminations
NAVIGATING THE FOOD SAFETY MODERNIZATION ACT (FSMA) – Eliminating Contamination and Foodborne Outbreaks
When handling food and food related shipments, the transportation process alone can expose a high risk of nutritional deterioration, spoilage and can potentially open a door to contamination. Signed into law in 2011, and codified with amendments impacting transportation in 2016, the FMSA's goal was to shift from having to respond to foodborne emergencies, to preventing them altogether.
The Food and Drug Administration (FDA) is continuing their initiative with the implementation of the "New Era of Smarter Food Safety" which includes a process to digitally track food through the supply chain in a similar manner as we track packaged goods today. This will allow the origin of contaminated food to be traced swiftly, similar to the Walmart Food Traceability Initiative, and in Walmart's case, powered by Blockchain.
Historically, the transportation service provider (TSP) – rather than the shipper – has been the primary party responsible for protecting products in transit. The adoption of the FSMA, however, has shifted more responsibility to the shipper who must now exercise diligence when vetting TSPs to work collaboratively, ensuring safety, security, proper temperature, monitoring and access to readings; not to mention cleanliness of the transportation equipment and inspection of the commodities/goods across the outbound and inbound thresholds.
As a result, the trucking industry began following strict regulations in 2017 to ensure that food is properly handled throughout the transportation process. This includes:
Temperature Control/Tracking
Temperature Control/Data Exchange
Cleanliness
Training
Data Retention
The rise of logistics technology, especially trailer telematics that can sense, measure and report on location, temperature, humidity and barometric pressure, door open/close, and cargo space/usage, has made it easier to comply with the FSMA and prevent spoilage and contamination, before it occurs. Your ability to ensure the safety of your food product, whether moving through a distribution point, or in transit to one of your supply chain partners requires that your trading partners operating in your supply chain be digitally integrated. To achieve this goal, many brand owners and retailers in the food chain are engaging in operational and digital transformation of their transportation and logistics network and expect that their trading partners will embrace new and impactful innovations. How far have you travelled in your digital supply chain journey?