Long hauls might feel lonely, but truck driving with pets is a great option to make your time away from home more enjoyable.
The life of a trucker can be exciting and adventurous but hauling freight can also be a lonely job. Depression and other mental health issues are always a concern when you're isolated and away from family and loved ones.
Truck driving with pets is a terrific way to take a piece of home with you on the road. Pets also have documented positive health impacts — both physically and mentally.
So, in honor of International Cat Day and International Dog Day this month, we have created a complete guide to trucking with pets.
Possible restrictions
Different companies have different policies about truck driving with pets. So step one is to check with your employer about any restrictions they may have.
Currently, the FMCSA has not issued specific regulations for truck driving with pets — as long as no laws are broken, and they do not compromise the driver's safety.
Drivers should be aware that they must always carry proof of their pet's complete vaccination record and the Certificate of Veterinary Inspection to transport animals across state lines.
At ENERGY, we accept most varieties of four-legged friends; we only ask that drivers keep the truck cabin clean.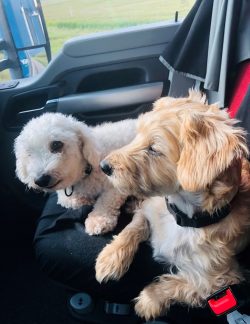 Kimo and Bobo traveling with Stephane, truck driver at ENERGY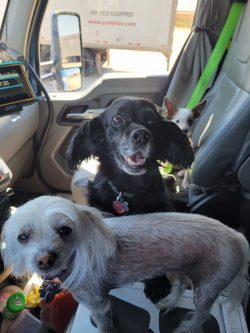 Dixie, Déesse & Dalia on the passenger side of Lynda's truck
Selecting the right pet
While popularized in the hit show B.J. and the Bear, driving with a chimpanzee might not be the best choice of furry companion from a logistical or legal point of view.
Small, low-maintenance pets are perfect for traveling. Most truck drivers travel with either cats or dogs, but some choose more exotic animals, like parrots or ferrets.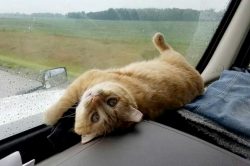 Image Credit: Paul Robertson / Percy The Cat
When selecting a type of pet to take on the road, not all are created equal. You should consider the size of your pet vs. the size of your truck cab and the amount of hair they produce.
Finding a breed under 30 pounds with short hair or hair that doesn't shed is recommended.
Truck driving with a cat
For cats, it's better to go with shorthaired breeds like the Abyssinian, the American Shorthair, the Chartreux, or the Siamese.
But if you want to take a cat on the road with you, you should consider the happiness of your feline friend. Many cats become agitated while traveling. It would be wise to test your cat's ability to handle long periods spent on the road with a test drive. Conversely, starting with a kitten might be a better option as the cat becomes more acclimatized to life on the road.
Either way, if you choose to drive with an older cat or a kitten, you will want to ensure they have lots of stimulation and toys to play with to keep them as happy as they make you.
Truck driving with a dog
Dogs are, of course, mans best friend. They are the most common type of pet for drivers and make ideal companions on the road. That said, you will want to consider the dog's size and how much activity they need.
The easiest dog breeds to travel with are usually small to medium sizes, like pugs, chihuahuas, miniature Pinschers, bulldogs, miniature Schnauzer, or beagles.
But you might also consider choosing a dog that doesn't require a lot of exercise. Senior or lazy dogs are happy to sit for long periods, making them ideal companions for truck drivers.
Pet training for the road
Pet harnesses work with regular seat belts to keep your animal safe. They prevent your pet from slipping or getting into danger while driving. This is especially important when you need to brake quickly.
Dogs or cats can also become dehydrated, so make sure they drink plenty of water while on the road. Pets also need space to move. Make sure there is room in your cab for your pet to stretch out or sleep and that they have plenty of toys for stimulation.
You will also want to ensure you have what you need to take care of your pet. Everything from grooming equipment, like brushes and nail clippers, to leashes or harnesses and cleaning products to keep your truck clean and fresh.
For some pets, driving in a truck is a whole new experience. If you do not use a harness to hold your pet, train your pet to stay away from sensitive equipment and the pedals. They need to be taught not to endanger themselves or you.
The health benefits of truck driving with pets
As mentioned in our previous article, health tips for truck drivers, there are many ways to help you feel better while driving.
Bringing a furry companion on the road is a terrific option and has excellent physical and mental health benefits for you and your pet.
Studies show that pet owners have lower blood pressure in stressful situations than those without pets. Interacting with animals has been shown to decrease levels of cortisol – a stress-related hormone.
Simply playing with a dog, cat, or any pet can elevate levels of serotonin and dopamine, which can boost your happy hormones.
In addition, pet owners, especially dog owners, are more likely to move around to walk them. For truck drivers who spend a lot of time sitting, having an excuse to move more is a significant advantage.
Being with your dog when you walk them in the rest area also makes for an easy conversation starter. This provides an opportunity to socialize several times a day, even if it's just for a few minutes.
And as any pet owner knows, your pets can miss you too. Allowing your pet to be your co-pilot means they will be less lonely too, and you can strengthen your bond with your animal.
Studies and hormones aside, at the end of the day, pets have a unique ability to make our days better.
Picture this; you're going through a rough day, with bad weather, demanding customers, or even behind schedule. Then you look to your right and see your pet in the passenger seat and notice that they don't care — they're just happy to be a part of this adventure with you.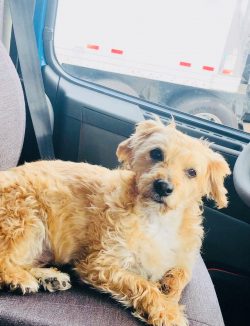 If you're interested in knowing about our truck driver opportunities or have any questions, contact us!