In honor of National Interns Day, we interviewed a former intern recently hired as full-time ENERGY employee. To read our previous year's edition, click here.
As a growing company, ENERGY has a busy HR department, and our interviewee today is an essential component of that team.
Meet Julia Rinaldi, a former ENERGY HR intern who was quickly offered a permanent position at the end of her placement. In this interview, she discusses her experience at ENERGY and what she hopes to accomplish in her new role.
Let's get to know a little bit more about Julia!
Why did you choose to do an internship at a trucking company?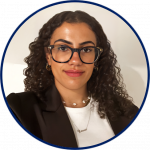 Julia Rinaldi
I was studying human resource management and searching for a job in that field without really looking for a specific industry. When I came across ENERGY's internship offer, what I found on the company's website intrigued me and made me want to apply.
Krisztina, the VP of Human Resources, had written an article on women in the transportation industry, which immediately caught my attention. I loved how she talked about women's empowerment, and I always wanted to work for someone like that. She spoke about how it's essential to have women and diversity in the trucking industry as it's traditionally been a male-dominated profession.
That inspired me, and that's why I applied for the position. My three-month internship started in January 2022. At the end of it, I was offered a full-time position.
What are your current missions and daily tasks at ENERGY?
Well, during my internship, I mostly did recruitment strategies, but now I have switched to being a human resources coordinator.
I handle HR policies like workplace harassment, training and development, Covid-19-related policies, and French legal translations. Because of Bill 96 in Quebec, I must ensure all our HR policies are translated into French.
I'm also in charge of some tasks relating to onboarding new hires. I prepare their training schedules and process some of the background checks we need to do as a C-TPAT-certified logistics provider.
In addition to that, I take care of offboarding sessions too. I conduct exit interviews to understand why an employee chooses to leave so we can finetune our policies or benefits to increase employee retention.
I'm also part of the internal newsletter committee, which we send out monthly to keep employees updated on what's happening in the company.
What do you like most about working at ENERGY?
What motivates me, and I think a lot of employees would say the same thing, would be the culture at ENERGY.
It feels like a family-oriented company, and the management plays a huge part in making the company culture feel welcoming.
I always feel valued and heard here, which is what I have felt since the beginning of my internship. Management always makes me feel like I am a vital team member, which is how I always hoped to feel in a company.
Has your internship helped you clarify your career path and future professional goals?
Honestly, it is my first full-time job, so I don't know what my future professional steps will be.
I see myself staying here for a very long time, but I still don't feel like I have clarified my career path yet. I'm more focused on just learning and understanding everything about HR's mission and function. And I'm still figuring out what I'm good at, so I'm not sure about the long-term part of my career yet.
Any fun facts from your experience here?
We often do team outings, and I find it fun! We went out for supper once and even had a "virtual cocktail hour" after work.
In HR, we try to organize a lot of team-building activities. It's an excellent way for everyone to get together because we have people that work remotely or hybrid.
Do you have any advice for future interns?
The main advice I would give to anyone wanting to do an internship is to truly be yourself. It creates a more authentic workplace for you and your team, and employers should support that.
There is a great quote that I love and live by that motivates me: "Be yourself because everyone else is already taken," and I think that must be applied on the professional side as well.
Are you interested in doing an internship at ENERGY? Visit our careers page today to see our available openings, or email your CV to [email protected]!