2023 is almost upon us, and here are the top four transportation and logistics trends we're looking forward to in the year to come.
#1 Drone delivery takes off
For as long as there have been commercial drones on the market, people have dreamed of using them for deliveries. Will 2023 be the year drone delivery finally goes mainstream?
That's what Amazon hopes to do with its new program Prime Air. With drones delivering packages in people's backyards, Prime Air hopes to develop this service into a full-fledged delivery method. This will safely meet customers' needs everywhere.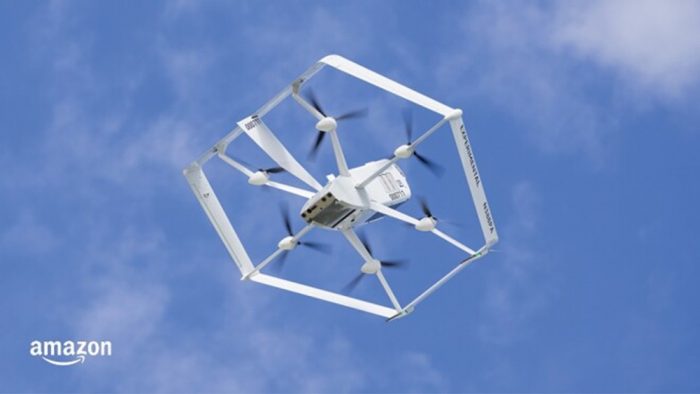 Amazon Prime Air's only North American offering of this service is a trial run in Lockford, California. But the company has big plans to expand. Progress has been slow since the company's CEO Jeff Bezos first announced a drone delivery plan in 2013. But with a retail giant like Amazon showing an interest, you can bet other companies are taking note.
Google, Walmart, FedEx, and UPS are all developing their drone delivery platforms as well. With Google X incubated company Wing taking the lead with over 250,000 deliveries so far, as per their website.
We predict that in 2023, this technology will mature, and regulations on flying drones beyond line of sight will be improved to make way for this new delivery method.
Bottom line — will you get a package delivered by drone in 2023? Likely no, but 2023 could be the year the drone delivery concept takes off.
#2 Cyberattacks on supply chains will proliferate

Just like in other industries, cybersecurity is an increasing concern.
According to a report by Aqua Security, cyber attacks against the software supply chain have risen a staggering 300% in 2021 and are expected to grow year over year.
Cyberattacks on supply chains can involve holding data hostage for financial gain or stealing sensitive customer information. These types of attacks cause massive disruptions in the logistics supply chain. They can cost hundreds of millions of dollars to resolve and cause long-term damage to a brand's reputation.
Security officials expect annual cybercrime costs to rise to $10.5 trillion by 2025. Exact figures on the impact of cybercrimes on the logistics industry are hard to come by since many companies prefer not to report a breach. However, it's entirely possible that in the not-too-distant future, cyber attacks will cost the logistics industry more than physical theft of commodities.
We predict that in 2023, companies big and small will no longer be able to ignore this persistent and evolving threat. The attacks will continue to proliferate and become more sophisticated. IT departments will be locked in an ever-evolving arms race with cybercriminals.
While there are steep costs to enhancing IT security, companies that invest in their IT infrastructure and frequently assess and reassess their policies will be the clear winners in 2023.
#3 Supply chain companies — big and small — will look to reduce their environmental footprint
A big trend we expect to see grow in 2023 is a continued focus on sustainability in supply chains. Increasing consumer awareness of supply chain emissions, paired with stricter government regulations, will push companies toward low-carbon or cleantech solutions in the years to come.
In 2023 you can expect to see a continuation and expansion of companies sourcing sustainable raw materials, leveraging new technologies that create fewer emissions, and carbon offsets to reduce the environmental footprint of their operations.
The strategies mentioned above are already commonplace for most of the big players in the logistics industry. We predict that small and mid-sized operations will seek to implement similar solutions as they face increasing pressure from their customers, staff, and partners.
#4 Shifting from reactive to proactive with AI-based solutions
Most logistics professionals have spent the last two years facing one supply chain crisis after another. But now, as supply chain pressures improve and business returns to a new normal, logistics professionals can shift from a solely reactive approach to a more proactive one.
Organizations have had to learn to pivot quickly during the pandemic, and an agile supply chain, supercharged with AI and machine learning algorithms, has become an enormous business advantage.
According to a recent survey by McKinsey, autonomous supply chain planning can lead to an increase in revenue of up to 4%, a reduction in inventory of up to 20%, and a decrease in supply chain costs of up to 10%.
Autonomous planning helps supply chains function more effectively in unpredictable environments, requiring less direct human oversight and decision-making. It combines big data (company data, external factors, and customer information) with advanced analytics to optimize every step of the supply chain process.
We predict that in 2023, most consumer-packaged goods organizations will move towards autonomous supply chain planning tools. This will me one of the most important factors to stay competitive in the market.
If you're interested in a fast and free quote for your shipping needs at ENERGY Transportation Group, get in touch with our logistics professionals!