In honor of National Trucking Week, we want to shine a spotlight on the truckers who always get the job done, despite working in some of the most extreme and dangerous conditions.
Truck driving is listed as the eighth most dangerous occupation by the US Bureau of Labor Statistics, with 556 fatal occupational injuries in 2020 alone.
Whether hauling hazardous goods or driving through harrowing conditions, truck drivers face some of the most extreme occupational conditions. It can be searing heat, freezing cold, impossible roads, or even driving through active conflict zones. Whatever the case, truck drivers continue to meet the day and get their cargo to where it needs to go.
Australian road trains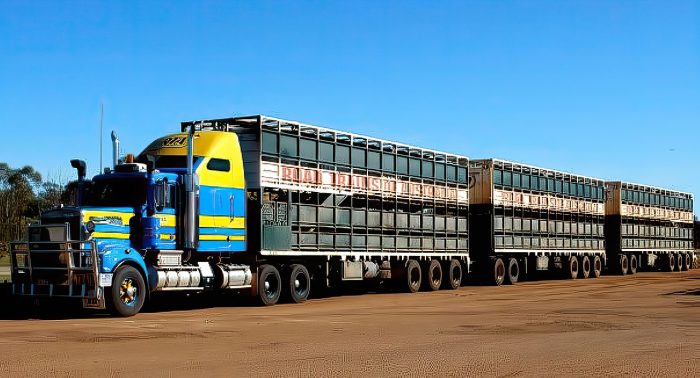 A road train is a long combination of trailers hauled by a tractor to move road freight more efficiently. It is the main freight transport on the straight, flat roads of the Australian Outback.
They are the world's longest trucks, coming in at 165 feet long. That's over double the length of a standard semi truck.
But the longest Australian road trains can be up to 175 feet long and weigh 80-120 tons.
Road trains are very dangerous and banned in most of Australia. They are difficult to control and even harder to stop. But the Outback is immense and mostly unpopulated. Therefore, road trains are the best way to transport goods in the remote communities of the territory.
The weather and climate in Western Australia are desert-like most of the year. Such high temperatures mean that the engine must be perfectly ventilated and cooled. This is especially important on a route where there is hardly any infrastructure to speak of.
The Outback of Australia covers more than 5 million km2.  A driver may be 10 to 12 hours away from a mechanic that could repair this huge and expensive truck. Engine reliability is paramount in the Outback, where roadside assistance sometimes arrives by propeller plane.
Despite the safety issues, road trains are indispensable in Australia — especially in isolated areas. They're essential for hauling cargo to small arid regions and remote towns. Some communities in these Outback areas, such as the Aboriginal people, depend entirely on them.
Ice road trucking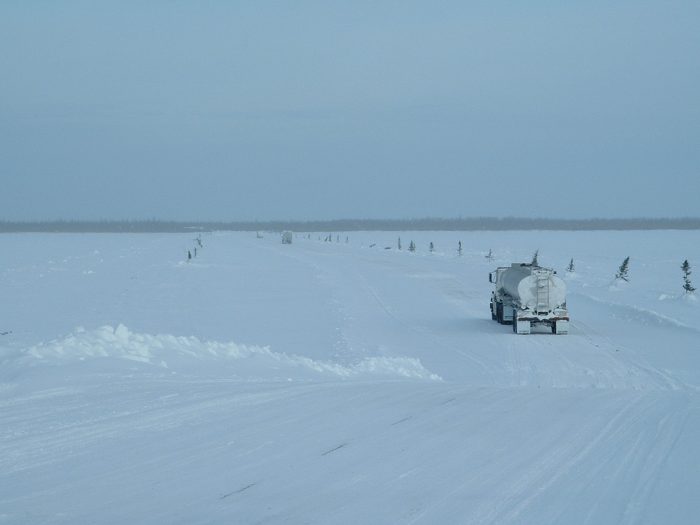 Trucks crossing the Albany River on the winter road from Moosonee to Attawapiskat in Northern Ontario, Canada.
An ice road is a winter road, or part of one, that operates over a naturally frozen water surface (rivers, lakes, or bodies of sea ice) in cold regions. Ice roads allow temporary transportation to remote areas without permanent road access.
Ice roads reduce the cost of transporting materials that would otherwise be shipped by expensive air freight. They allow for the movement of large or heavy objects that would be highly impractical to transport by air.
They became popular with the public with the successful reality tv show Ice Road Truckers, which follows the lives of truck drivers on their dangerous journeys.
These ice roads are in Antarctica, Alaska, Russia, Sweden, Estonia, Canada, Norway, Finland, and some places in the United States.
Trucking on ice roads is a very complicated and risky operation. Speed is usually limited to 24 km/h (15 mph) to prevent the weight of a truck from causing cracks in the surface of the ice.
Other dangers include avalanches and pressure ridges on the large lakes. Pressure ridges are breaks in the ice, created by the contraction of the surface ice over time due to heat.
In short, driving on these ice roads is a matter for experienced truck drivers, requiring extra training and nerves of steel.
Areas of conflict
Red Ball Express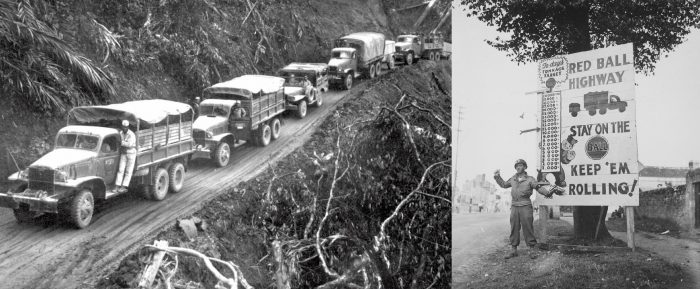 Image credits: http://www.maksimsmuseum.com/red-ball-express-patch.html
One of the most famous cases of trucking in a conflict zone was the Red Ball Express.
The Red Ball Express was the famous trucking system that supplied Allied forces across Europe after the breakthrough on the beaches of Normandy on D-Day in 1944. To facilitate cargo transport to the front lines, trucks decorated with red balls followed similarly marked routes closed to civilian traffic. Moreover, trucks had priority on normal roads.
From August through November 1944, 23,000 American truck drivers —70 percent of whom were Black — moved more than 400,000 tons of ammunition, gasoline, medical supplies, and rations to battlefronts in France, Belgium, and Germany.
The Red Ball Express trucks gave the Allies a strategic advantage over the German infantry, which were overly reliant on rail lines, and horse-drawn wagons to move troops and supplies.
These drivers braved German mines, air raids, and shelling to deliver thousands of tons of supplies.
One could easily argue that the truck as much as the tank, enabled the Allied forces to prevail in World War II.
Contact us today to learn more about ENERGY's career opportunities or if you need a free quote for your shipping needs.