In honor of Women's Equality Day, we sat down with Zeinab Baghdadi, a seasoned logistics veteran who is now part of the ENERGY sales team.
August 26th, 1920 was an auspicious day. It was the date the 19th Amendment to the US Constitution went into effect, granting women the right to vote in federal elections for the first time.
Women's Equality Day celebrates the many achievements of women in fields that were once reserved only for men. The day also serves to raise awareness of the issues women face in society regarding wage inequality, family planning, equal opportunities, and gender-based discrimination.
Read our interview with Zeinab Baghdadi, National Accounts Manager at ENERGY. We discuss her experience and her ideas to advance women's issues by supporting each other's goals and aspirations.
To read our previous year's exclusive interview, click here.
Can you tell us a little about yourself and how you ended up working for ENERGY?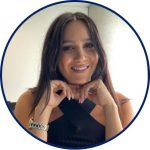 Zeinab Baghdadi
I have always worked in the transportation industry. My first job in Canada was at a multinational shipping company, and I found myself enjoying the industry.
However, I felt the need to challenge myself more and was looking for new opportunities when I came across ENERGY's job offer.
I had an interview that went smoothly, and I felt like ENERGY could offer me what I was looking for. And honestly, I tell myself that I made the right choice every day!
In your opinion, is the transportation industry welcoming women into the profession?
I think the transportation sector is welcoming more and more women. I even see a significant number of women being hired in the company, and the number is growing. So, I would say that on that side, gender equality is gradually being implemented.
Nonetheless, it's rare to see women in leadership positions such as executive positions or directors in the industry.

It's so rare that when a lady is promoted to a director position, it's advocated more on social media as if it was a significant development that a woman could become a director. It's not that I don't want to celebrate their achievements, but it should be treated the same way as anybody else getting promoted.
As a former brokerage operations employee and now a national accounts manager, have you ever faced any barriers in your career due to being a woman? If so, how did you overcome them?
Yes, there are a lot of challenges that I went through.
From clients to employees and truck drivers of every gender — I feel like I'm always looked at as a "woman."

To overcome this type of stigmatization, I always stay professional. I prove that I am confident in my work and statements, encouraging men or women I work with to respect and listen to what I have to say.
What's the most critical piece of advice you'd give to a woman thinking of starting a career in transportation?
I am just going to say a simple sentence based on my own experience:
Be confident, stay strong, and if you ever feel intimidated by someone or a task, hide it and show that the job is going to be done, regardless of your gender.
Why do you think gender equality in the workplace is so important?
Having gender equality in a company makes the workplace healthier.
For example, as a woman, if I'm doing the same job as my male colleagues and I know they are being appreciated more and receiving a better salary, this will not motivate me to stay in this environment.That kind of disparity in the workplace breeds resentment. It also creates a hostile environment, and the work suffers.
What do you think the logistics industry can do to better support women's equality in the workplace?
I am totally for equality between men and women. However, some things are out of our control as human beings.
I am going to be very specific on this topic. Women's bodies go through changes every month, and every woman's body experiences it in different ways.
I believe we need more sick days to go through these biological changes. Sometimes I feel like I have to push myself to go to work even though I'm not mentally and physically prepared for it.

Also, when you are a mother – a high percentage of working women — you keep your sick days for when your kids aren't feeling well.

I think the industry could better support women's equality in the workplace if they found a way to accommodate the real-world realities that working mothers go through.
If you could have dinner with one inspirational woman, past or present, who would she be and why?
My mother, most definitely.
I don't have the chance to see her every day because we live in different countries. But she's the woman who made me become the person I am today.
My mother taught me to be strong, and everything I have now is because of her.
Have you had any female role models in the logistics industry?
I consider every successful woman in the industry as my role model. Because each of them is successful in at least one area, and I can learn from them.
No matter their position, they can be a truck driver, an executive, or a colleague; if something led them to success, I want to know what it is.
If you are interested in working at ENERGY, visit our careers page to see our available positions.