It's no secret that fuel consumption is one of the biggest environmental concerns for any transportation company. With 70% percent of consumer goods being shipped via truck, the environmental effect is staggering while goods will always need to be transported from manufacturing or distribution locations to the clients, suppliers, and/or consumers, increased volumes have amplified the impact to the environment.
However, there are many ways to reduce fuel consumption that can be adopted by trucking companies. These improved processes will not only minimize the environmental effects but will also help reduce costs.
4 ways you can improve fuel consumption:
Slow down
Contrary to popular belief, traveling at a faster speed does not give you better mileage per gallon. In fact, this myth was debunked in 2011 by National Geographic. With trucking, figures show that for every mile in speed (around 60MPH and above), there is a corresponding 0.14 miles per gallon fall-off in fuel consumption. So, if a truck drops its speed from 70 to 60 MPH, there is an improvement of up to 27% in fuel consumption. Ensuring that your drivers know the ideal driving speed will have the truck running at its most efficient. As an added incentive, slower speeds mean a safer trip and less maintenance on the truck itself.
It's simple physics!
As you might already know, aerodynamics is an important issue for trucks. The more streamlined your truck is while on the road, the less drag there is on the tractor and trailer. This ensures that less fuel is burned as wind resistance increases quadratically rather than linearly.  So, if you double your speed, the drag becomes a force four times stronger, rather than double.
This doesn't mean you need to redesign your entire fleet, but there are a few accessories you can add to your truck to improve airflow. Here are a few:
Side skirts
Roof deflectors
Truck panels
Rounded side mirrors
Even the air gap can be improved if you ensure the truck has space to turn without the tractor hitting the trailer.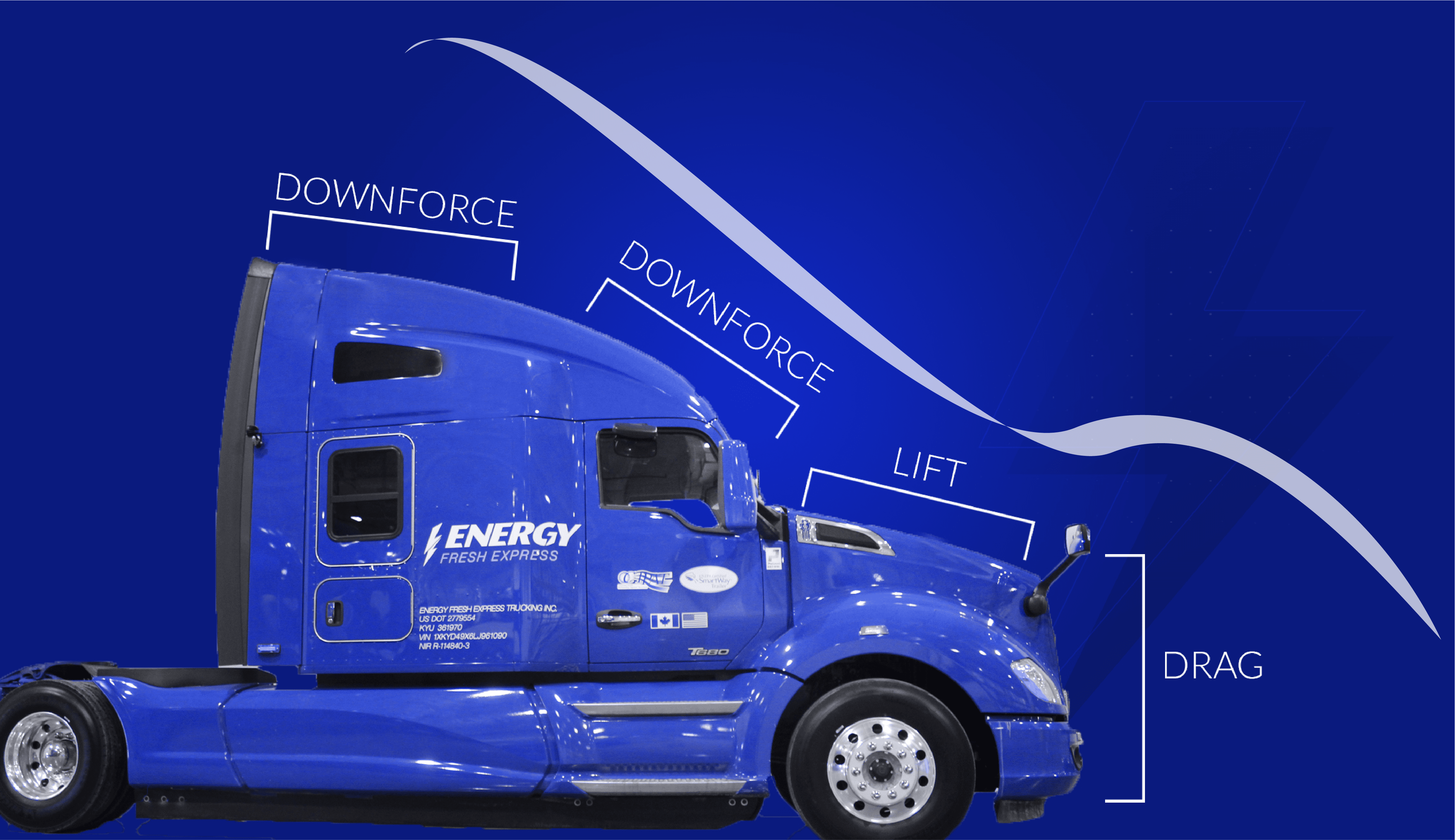 Power of data
Fleet management systems (FMS) like ISAAC can be used by all trucking companies to improve operations and increase fuel efficiency. With the ISAAC coach, there are several components that can be leveraged to improve driver safety and reduce emissions. These include an integrated navigation system that can cut down on drive time. Additionally, FMS also provides driver performance reports to help drivers minimize negative driving practices such as hard breaks, hard turns, and excessive speeding, leading to fuel savings.
The ISAAC coach considers truck aerodynamics, engine power, truckload, road slope, and wind factor to measure the use of fuel. As a result, drivers are shown how to make driving adjustments while on route to maximize fuel saving.
In our 2017 SmartWay report, we obtained data that put us in the top 2% of companies in North America. This means we are performing sustainably and looking for ways to continuously improve. If you want to learn more about our SmartWay partnership, read our press release.
Continue saving for the long haul
Cutting down on fuel consumption can impact all aspects of a company's operations. Not only can it help benchmark their operations, track fuel consumption, improve overall performance, but it also reduces harmful emissions in the air.
At ENERGY, we are always finding ways to improve our fuel consumption. Our trucking and logistics departments strategize and plan in order to optimize our fuel use and make any necessary adjustments to decrease our consumption. Ultimately, passing on these savings to our clients.
Want to work with a fuel-efficient partner? Contact us and experience the ENERGY difference.